If you love salads with a little crunch, try this tomato, cucumber salad recipe with corn! Stay put and I'll share the recipe. 🙂
This salad can be eaten as a light lunch, side dish, or even as a snack in between meals.
The BEST Tomato Cucumber Salad Recipe w/ Corn
Serving size = 8 (4 oz. snack size)
499 cal (62.37 ea) / 20.7 g "good fat" (2.5 g ea) / 73 g carbs (9.1 g ea) / 18.8 g protein (2.3 g ea)
Eating smart begins with unprocessed foods, known as "clean eating". If you want to learn more about clean eating check out the Noom weight loss program.
All it takes is a few lifestyles eating habits changes to get off to a great start for a healthier "YOU" and might even lose a few pounds along the way.
Ingredients:
1 cup fresh corn; kernels cut off 1 cob of corn
1 cup fresh tomatoes; diced
2 medium cucumbers; diced
1/2 red onion; diced
1 tablespoon olive oil
2 teaspoons minced garlic
1/2 tablespoon white wine vinegar or lemon juice
1/4 teaspoon sea salt
1/8 teaspoon black pepper
Herbs; basil, mint, cilantro, or parsley
1/4 cup Mozzarella Cheese; shredded or cubed (optional)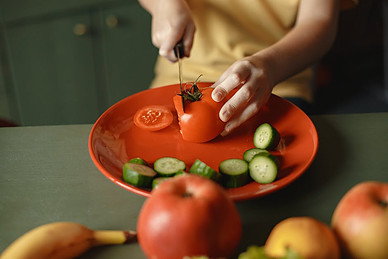 To Prepare:
Shuck corn (1 or 2 ears of corn), cut off the kernels, and put in a medium-size bowl.
Wash, seed, and dice the cucumbers (peeled if you prefer), and add them to the bowl.
Wash, core, and dice the tomatoes, add to the bowl.
Dice the red onion and add to the bowl.
Cube or shred the Mozzarella Cheese
In a small bowl whisk together oil, white wine vinegar or lemon juice, minced garlic, salt, and pepper.
Pour the mixture in the bowl with the vegetables and combine them thoroughly.
Blend the herbs together and serve as a garnish or mix into the vegetable mix. (I prefer mine mixed in)
Separate into individual 4-5 oz sealable containers and refrigerate 30 minutes to an hour for the best flavor.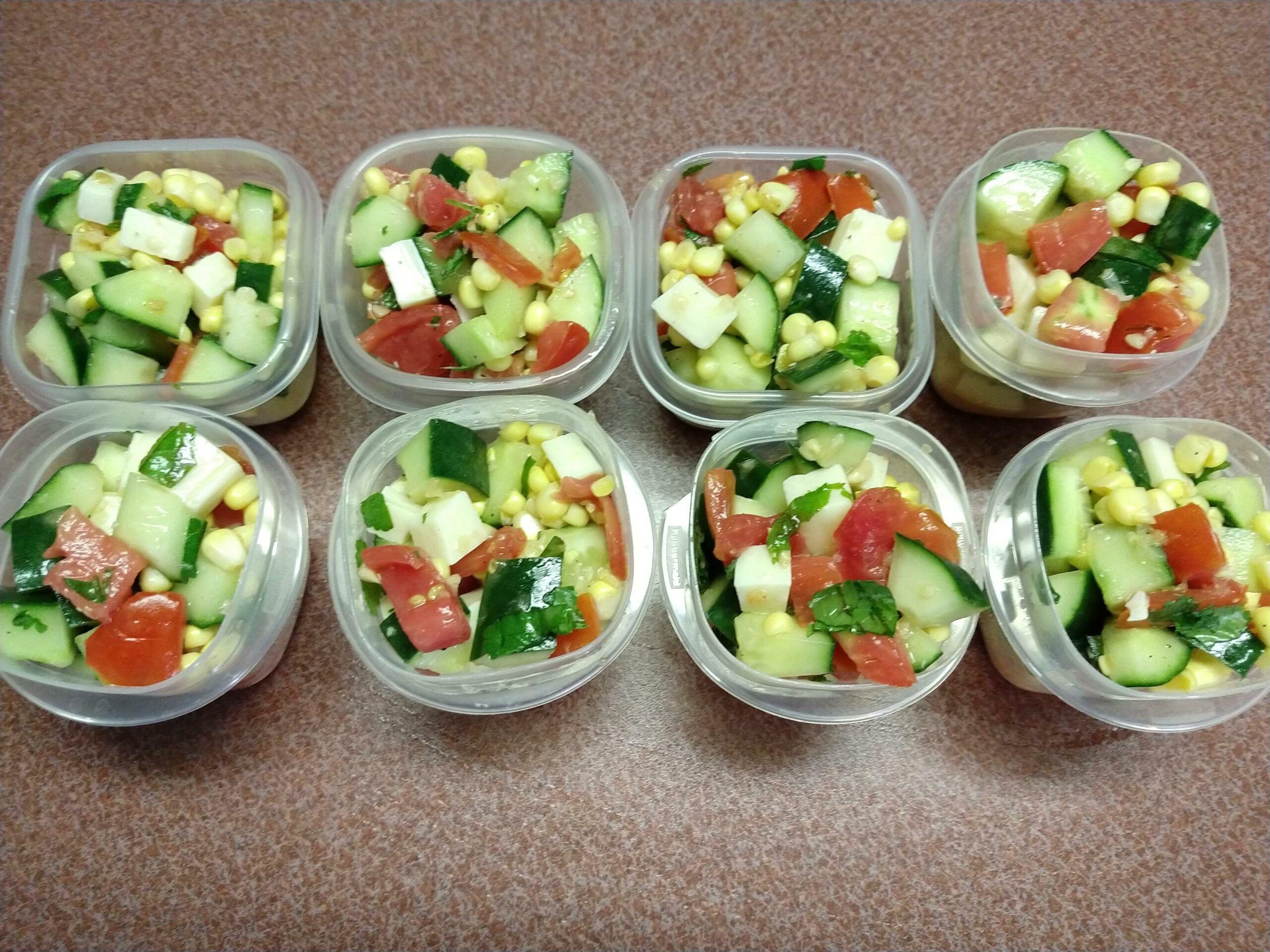 This light and crispy tomato, cucumber, salad recipe with corn is great to go with your lunch for work or eaten as a side dish.
If you MAKE IT, LOVE IT, please SHARE your feedback below the corn image. I would love to read what you think. 🙂