This Brown Sugar Salmon Recipe is delicious and unique. If you're tired of the "usual" and need something a little different, why not give this a try. I'm sure you will enjoy it as much as I do.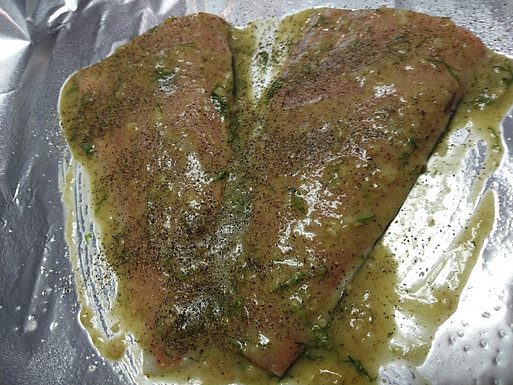 Brown Sugar Salmon Recipe
Serving size = 4 – 3 oz. portions
Per 3 oz. Serving = 132 calories / 6 g fat / 0 g carbs / 23.3 g protein
Ingredients:
1/4 cup packed light brown sugar
3 tablespoons apple cider vinegar
3 tablespoons whole-grain mustard (also know as honey Dijon)
1 tablespoon vegetable oil
2 garlic cloves or 4 1/2 tsp minced garlic
12 ounces of salmon, divided into 4 fillets
Salt and Pepper – to taste
Small bunch of fresh dill
To Prepare:
Adjust the oven rack 6 inches from the broiler element and heat broiler. Line the top rack with foil and spray with olive oil or vegetable oil.
Chop the dill and mince the garlic.
Stir brown sugar, vinegar, mustard, oil, and garlic together until sugar dissolves. Reserve about 2 tablespoons of the mixture for serving.
Pat Salmon dry with a paper towel and season with salt and pepper.
Lay salmon, skin-side down, o the broiler pan.
Brush the remaining glaze evenly over each salmon steak.
Broil until the fish is done; usually takes about 12 minutes.
Before serving, drizzle the reserved glaze over salmon and sprinkle with dill.
This brown sugar salmon recipe goes well with okra and tomatoes and healthy summer squash casserole.