If you are looking for the BEST Easy Chicken Parmesan Recipe, I gotta tell you, this is one of the best Italian dishes ever!!
To make it even better…
It's HEALTHY… well, it could fit into your diet without causing too much worry. 🙂
Also, check out Noom Food List pdf!
The BEST Easy Chicken Parmesan Recipe!
Serving size = 4
Ingredients:
1/4 Cup Panko Italian Bread Crumbs
1/4 Cup Panko Plain Bread Crumbs
1/4 Cup Grated Parmesan Cheese
1 TSP Italian Seasoning
Salt and Pepper to taste
2 TBSP Olive Oil
1 or 2 eggs scrambled
2 TBSP milk
4 Chicken Breast (1 pound)
1 1/2 Cups Marinara Sauce (just use your favorite Sauce!)
4 Slices Mozzarella Cheese
2-3 Zucchinis – Spiralized (recommended)
To Prepare:
Preheat the oven to 425 degrees.
In a shallow dish, add the panko breadcrumbs and grated Parmesan cheese along with Italian seasoning, salt, and pepper. Blend all of these ingredients together.
In another bowl, scramble the eggs and add in the milk.
In a medium-size pot, add your favorite marinara sauce and season according to taste. Simmer on medium-high heat.
Heat the oil in a medium skillet over medium heat. (If you own an ovenproof skillet, this would be ideal)
Cut the chicken breasts into 4 equal pieces. Using a meat tenderizer, pound each piece of chicken until equally flat. This will help them cook more evenly.
Dip each chicken strip into the bowl with the egg mixture and drip off the excess liquid.
With the wet hand, place the chicken breast individually into the bread crumb mixture. Using the dry hand, bread the chicken strip on both sides and place in the hot skillet.
Do this with each chicken strip.
Cook for approximately 3 or 4 minutes per side. The goal is to cook until the chicken is golden brown. The chicken will finish cooking in the oven.
While in the ovenproof skillet or if you don't have one, transfer the chicken breast to an ovenproof casserole dish or pan. Bake for about 10 minutes until the chicken is fully cooked.
Add the marinara sauce and a slice of mozzarella cheese on top of each piece of chicken and return to the oven for a few more minutes.
While the chicken finishes cooking start preparing the zucchini. If you have a spiralizer, then I suggest spiralizing each zucchini. If not, then cut the zucchini into thin strips.
Saute the zucchini until it reaches the desired tenderness.
When the chicken Parmesan is hot and the cheese is bubbling and lightly brown, remove it from the oven and serve it in a dish on top of the zucchini.
Sprinkle with grated Parmesan cheese and parsley.
Eat and Enjoy!
---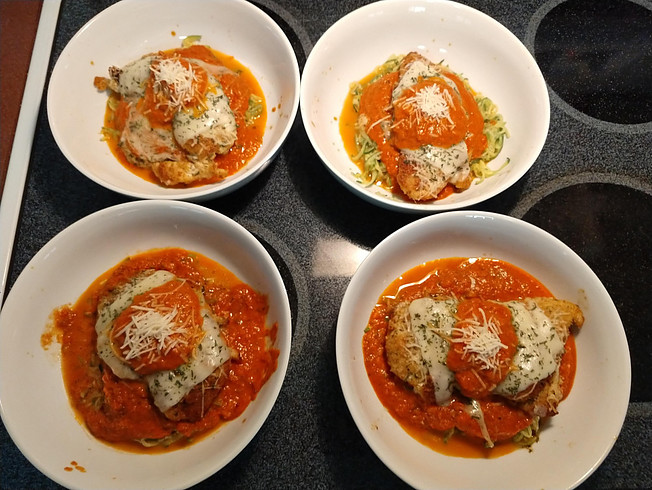 Did you enjoy this recipe?
I hope you enjoy this Easy Chicken Parmesan Recipe! Please leave comments down below. I would love to know what you think!