This Slow Cooker Pork & Sauerkraut recipe is one of my favorites! Tender & juicy lean pork slowly cooked to perfection in sauerkraut and served with a side dish of Waldorf salad!
SO YUMMY and a must-try!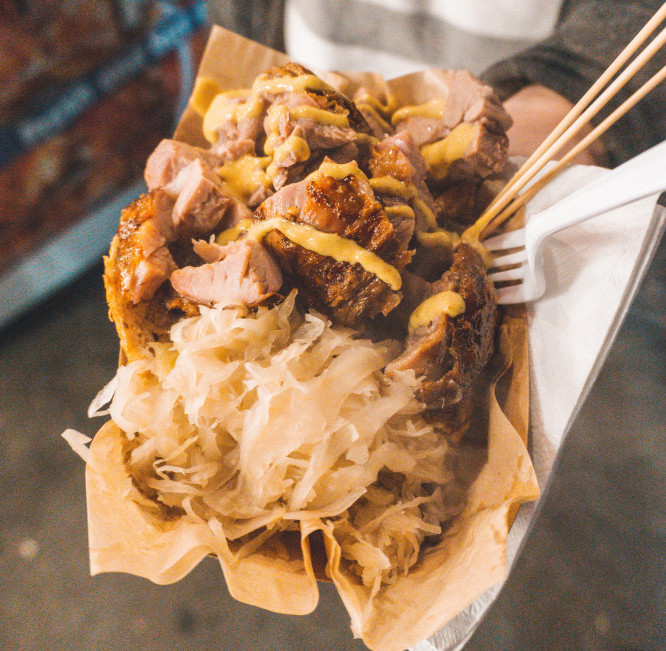 Slow Cooker Pork & Sauerkraut
w/ Waldorf Salad
Serving size = 4
(Calories, fat, carbs, & protein include the sides per serving)
538 calories / 24.61 g fat / 58.04 g carbs / 47.14 g protein
Ingredients for pork & sauerkraut:
1 pound lean whole pork tenderloin
24 ounces (1 bag) baby red potatoes (unpeeled)
24 ounces sauerkraut (not drained)
1 cup of water
1/4 cup "Land O Lakes" butter with canola oil or another butter substitute
Salt and pepper to taste
Ingredients for the side dish;
"Waldorf Salad with apples, celery and walnuts"
6 tablespoons plain non-fat Greek yogurt
1 tablespoon lemon juice
1/2 teaspoon salt
Black pepper to taste
2 Red Delicious apples; cored and chopped
1 cup red seedless grapes; sliced
1 cup celery; thinly sliced
1/2 cup chopped walnuts (optional tip – try toasting these)
Romaine Lettuce; shredded
To Prepare:
Tenderloin and Sauerkraut
Place the whole pork tenderloin into a slow cooker crockpot.
Arrange the red potatoes around the pork.
Pour the sauerkraut with juice over the pork tenderloin and potatoes.
Add butter, salt, and black pepper.
Cook on low until the pork is tender. Generally, this can take as long as 8 to 10 hours depending on your slow cooker.
Check it after several hours to see if more water is necessary. You don't want the mixture to become too dry.
To Prepare Waldorf salad:
Add yogurt, lemon juice, salt, and pepper to a medium-size bowl and whisk together. Stir in the diced apples, sliced celery, grapes, and walnuts.
Chill for at least 2 hours.
Serve on a bed of lettuce.