If you are looking for healthy recipes with chicken, then you found the right place for my daughters "Jamaican Me Happy with Chicken, Rice & Peas Recipe". It's easy to make, serves 4 people, makes a "COMPLETE" meal, and the best thing is, its under 600 calories!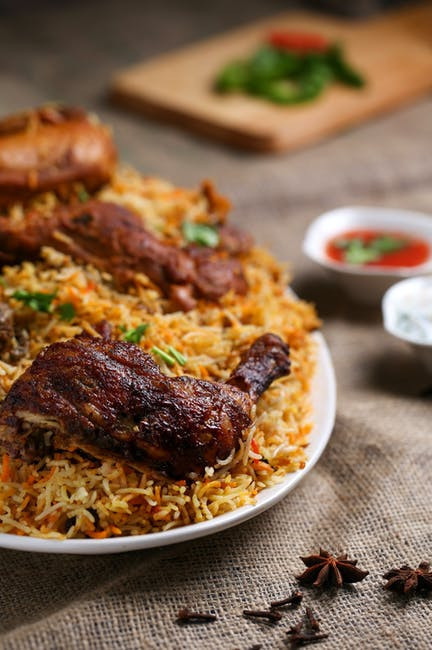 Healthy Recipes with Chicken – Under 600 Calories!
Jamaican Me Happy with Chicken, Rice & Peas
By Carlene Garrison
Serves 4
Complete Meal
Calories 571 / 18 g fat / 48 g carbs / 49 g protein
Ingredients:
2 red onions, halved and sliced
1 tbsp olive oil or canola
4 chicken legs; skinless (about 2 1/2 lbs)
1 tbsp fresh thyme
1 tbsp curry powder
1 tsp ground allspice
4 large tomatoes, chopped
1 chili pepper; minced
2 garlic cloves chopped or 2 1/2 tsp minced
2 tsp vegetable stock (low sodium)
For the rice and peas;
4.4 ounces brown basmati rice
1 red onion chopped
2 garlic cloves chopped or 2 1/2 tsp minced garlic
1 tbsp of fresh thyme; have extra for garnishing
1 tsp vegetable stock
14 oz. black eyed peas (if not fresh, try to buy frozen)
To Prepare:
Heat the oil in your favorite non-stick wok or frying pan. Cook the onions for about 5 minutes, or until tender.
Coat the chicken with thyme, curry powder, and allspice.
Place the chicken in the pan and brown. Add in the tomatoes, chili pepper, garlic, a vegetable stock.
Pour in 2 cups of water.
Cover and simmer for about 30 minutes until chicken is tender. Check temperature; should be at least 145 degrees.
While the chicken is simmering start cooking the rice and peas.
In a medium size pot add 2 1/2 cups of water and bring to a boil.
If you're using frozen peas;

Add the rice, peas (if frozen), onion, garlic, thyme, and vegetable stock. Cover and set temperature to a simmer for about 25 minutes.
(f you're using canned peas add them after the rice is done.)
When the rice is tender and has absorbed the water, stir in the peas (if canned) and heat.
Eat & Enjoy this guilt-free meal!