You are in for a real treat with these delicious loaded baked sweet potatoes; oven recipe you won't forget!
If you love sweet potatoes and looking for a healthy meal option this just might be the one for you!
Give it a try! I did and I absolutely love it!
Loaded Baked Sweet Potatoes, Oven Recipe
(2 Servings)
Per Serving: 408 cal / 16.5 g fat / 41.7 g carbs / 29.2 g protein
One day I had a brilliant idea and decided to try it out. I love baked sweet potatoes, but normally they included butter, cinnamon, and brown sugar. This recipe is totally different but very tasty! Trust me! Give it a try!
It's healthier, very filling, and a mix of sweet and salty. Enjoy this recipe with some homemade salsa and avocado salad.
It's a complete meal and I recommend it for dinner, not lunch. It'll more than satisfy your hunger.
Not only is it healthy, but the entire family will also enjoy it as well.
Servings = 2
Ingredients:
2 medium sweet potatoes (102 cal / .2 g fat / 23.6 g carbs / 2.3 g protein in each potato)
8 ounces lean ground turkey (160 cal / 8 g fat / 0 g carbs / 22 g protein in each serving)
2 cups shredded lettuce (20 cal / 0 g fat / 4 g carbs / 1.3 g protein in each serving)
1/2 cup Salsa (36 cal / .3 g fat / 8.1 g carbs / 1.6 g protein in each serving)
4 tablespoons guacamole (90 cal / 8 g fat / 6 g carbs / 2 g protein in each serving)
To Prepare:
Preheat the oven to 475 degrees
Wash the sweet potatoes, removing any bad places.
Quick Start: Microwave the sweet potatoes for about 4 minutes, otherwise they will take at least an hour to bake.
Wrap each potato with a sheet of foil and place on a cookie sheet.
Bake until the potatoes feel soft. (check them after 45 minutes).
While the potatoes are baking, brown the lean ground turkey until done; drain off any fat and set aside.
Shred two cups of lettuce and set aside.
If you are making my homemade guacamole dip recipe, you should have time to prepare it while the potatoes are baking.
Homemade salsa takes a long time, so if you want to speed things up a bit, Pace Picante salsa will do just fine, although my salsa recipe is to die for. Follow this link and I'll share with you my secrets.
Next step:
When the potatoes are done, remove them from the oven and take off the foil. Place each one on individual plates and slice open.
Split the cooked and drained ground turkey between the two potatoes.
Add the shredded lettuce.
Top them off with 2 Tbsp guacamole and 1/4 cup of salsa each.
Serve immediately.
(If you are making this for only yourself, these can be stored in the refrigerator for a couple of days for another meal later in the week.)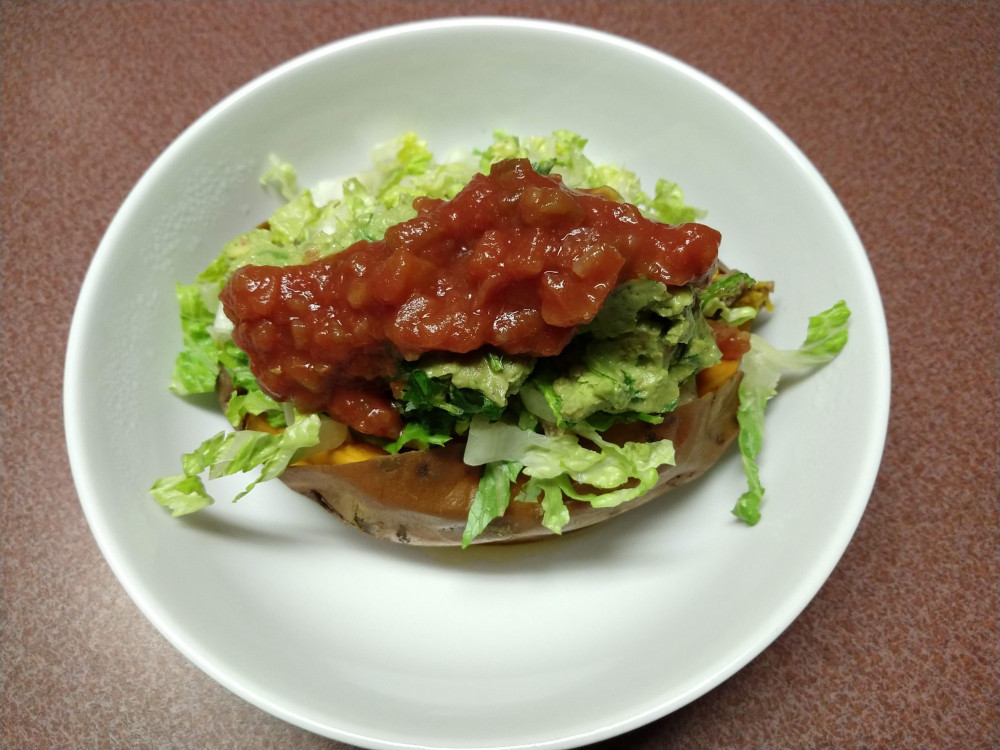 Which is best? Sweet Potato or White Potato?
If you are like me, you may be asking yourself why baked sweet potatoes are healthier for you than baked white potatoes. Here's a little incite about that;
Sweet potatoes and white potatoes are both healthy options, although it depends on how you cook and serve them. Commonly sweet potatoes are baked and served sliced open with loads of butter, brown sugar, and cinnamon.
This would not be a very healthy choice, even though we are all human and must have them this way once in a while.
White potatoes are commonly served as French fries loaded with salt or baked and served with butter and sour cream or ranch dressing.
One medium plain sweet potato contains about 100 calories, 24 grams of carbs, 4 grams of fiber, and 2 grams of protein. They are known for keeping you full for longer because they contain slowly digested carbohydrates for sustained energy.
One medium white potato, baked and with the skin, contains about 170 calories, 37 grams carbs, 4 grams fiber, and 5 grams of protein. They rich in potassium, containing even more than a single banana.
White potatoes contain a type of starch known as "resistant starch", a type your body can't digest which is what keeps the body full for longer.
So, as you can see, both sweet potatoes and white potatoes are healthy vegetable options as long as they prepared the right way. 🙂
This recipe is really awesome, in my opinion! Sweet, salty, and a little spicy! The best combination of ingredients that will surprise you!
Please share your opinions or suggestions about this Baked Sweet Potatoes, Oven Recipe in the comment section down below. I would love to hear your thoughts.