The easy guacamole dip recipe is healthy a can make a delicious side dish. Guacamole can pair well with many dishes including my baked sweet potatoes, oven recipe, or a Mexican dish of any kind.
Serve it over a bed of shredded lettuce with tomatoes and black olives for a light lunch or use it in fajitas, burritos, and nachos. It's such a great addition to any meal!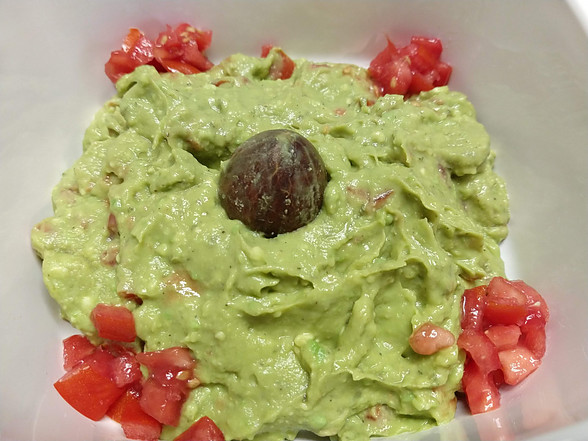 Easy Guacamole Dip Recipe
Serving Size = 4 tablespoons
Per serving: 80 cal / 4 g fat / 5 g carbs / 2 g protein
Ingredients:
3 Ripe Avocados (save the pit)
1/2 teaspoon ground cumin
1/2 teaspoon garlic powder
1/2 teaspoon onion powder
1/2 teaspoon sea salt
1/4 teaspoon black pepper
1 – 2 tablespoons lime juice (start with 1 tbsp., and taste before adding more)
Diced tomatoes (optional)
Fresh Cilantro (Highly Recommended!)
To Prepare:
Cut the avocados in half around the pits and spoon out into a bowl.
Using a potato masher or a fork, mash the avocados until desired texture.
Add the cumin, garlic powder, onion powder, sea salt, black pepper, lime juice, diced tomatoes, and freshly chopped cilantro to the mashed avocados and mix.
Place the avocado dip into a sealable airtight container and put the pits in the dip, spaced out. This will help keep it from turning dark, although it's not going to prevent it completely.
Seal and refrigerate until ready to serve.
This easy guacamole dip recipe goes great on loaded baked sweet potatoes, oven recipe! The whole family will love it!