Dinner Recipes, Low Calorie! Try this Buffalo Chicken meal… delicious and under 600 calories!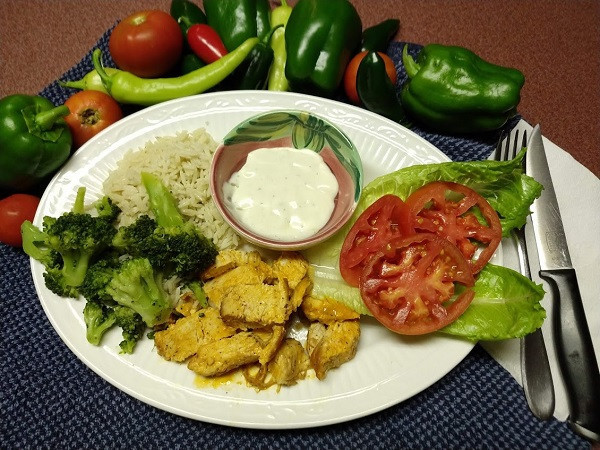 Dinner Recipes, Low Calorie! This one is GREAT!
Try this Buffalo Chicken* Plus Sides
Serving Size = 2
(Calories, fat, carbs, & protein include the sides)
572 calories / 13.5 g fat / 61 carbs / 49.5 g protein
Ingredients:
1 medium chicken breast
Moore's original buffalo wing sauce
Cayenne red pepper (optional)
Canola cooking oil
To Prepare Buffalo Chicken:
Flatten chicken so it is the same thickness, allowing it to cook evenly. (I used a handheld meat tenderizer).
Heat oil in a frying pan until "HOT". Place chicken breast in a frying pan. Turn the temperature down to medium-high.
Allow chicken to cook for about 5 minutes before turning over.
Using a meat thermometer, check to see if the chicken is done. (chicken will be ready at 165 degrees Fahrenheit)
While the chicken is cooking, prepare the sides according to the directions on the packages.
When the chicken is done place it on a cutting board and cut into cubes.
In a small bowl, add the chicken and Moore's buffalo wing sauce. Stir until well coated.
Serve on a garnished plate with mashed cauliflower, asparagus, and dipping sauce or lite ranch dressing (optional).
Eat & Enjoy!
---
Sides
Fresh asparagus in foil packs
Per serving:
30 calories / 1.75 g fat / 3.2 carbs / 1.85 g protein
Ingredients:
1 pound fresh asparagus
Heavy duty foil (or 12-inch by 18-inch foil sheets)
1 fresh lemon
1 teaspoon garlic powder
1/2 teaspoon fresh ground black pepper
1 teaspoon sea salt
To Prepare:
Preheat oven to 450 degrees
Cut the ends off asparagus spears and divide into 4 equal portions.
Place equal portions of asparagus spears on each foil sheet and sprinkle with garlic powder, salt, and pepper.
Drizzle with lemon juice and then top with a thin slice of lemon.
Add additional flavors if desired; fresh chopped garlic, a sprig of dill, or some Cajun seasoning.
Fold the foil together, leaving room for air to circulate inside the foil packets.
Place packets on a cookie sheet and cook in preheated oven for 15 minutes or until tender.
---
Other Sides: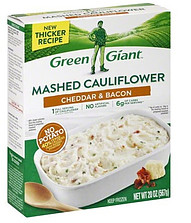 Cheddar & Bacon Mashed Cauliflower (found by Green Giant in a box)
Per Serving:
90 calories / 6 g fat / 6 g carbs / 4 g protein
Prepare according to the directions on the box.
Or
Broccoli Florets (Steamables – frozen)