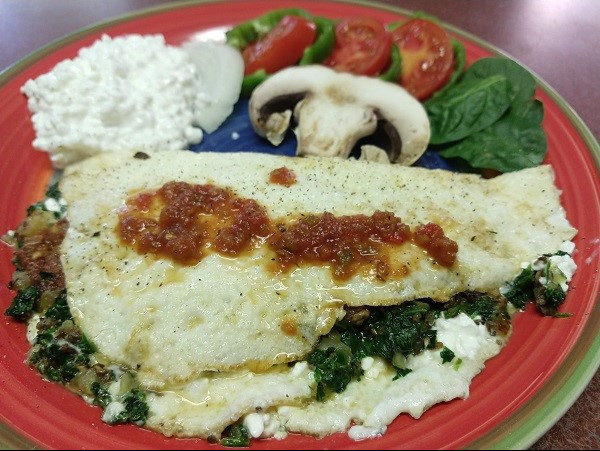 Serving Size = 1
(Calories, fat, carbs, & protein include the sides)
286 calories / 4.66 g fat / 22.76 g carbs / 39.53 g protein
Egg White Omelette Recipe
Hearty Spinach & Cottage Cheese Omelette
Ingredients:
¾ cup Egg Whites
3/4 cup of 1% Cottage Cheese
1/4 cup of Raw Onions Chopped
3 tablespoon Mushrooms
1/2 cup Spinach – cooked, OR 1 cup Spinach Raw
2 tablespoon Salsa
Olive Oil Cooking Spray
Sides:
Cottage cheese
½ cup fresh pears or canned (no sugar added)
Directions:
1. Using a medium-size frying pan, spray with olive oil cooking spray and precook spinach, onions, and mushrooms. Remove from pan and pour in 3/4 cup of egg whites. Let the egg cook for about 2 minutes.
2. Add well-drained cottage cheese, salsa, cooked onions, spinach, and mushrooms to one side of the egg. (If 3/4 cup cottage cheese is too much, you can serve the extra on the side as seen in the picture above.)
3. Flip over the side of the egg without the ingredients, onto the other half. When it looks a little golden brown on the outside, it should be ready to serve and eat.
4. Serve with fresh pears or canned (no added sugar).
5. Eat & Enjoy
In this video, I will show you how to make this wonderful egg white omelette recipe.  (Please Subscribe)
More information about eggs and their benefits; visit Muffin Top Belly Fix.